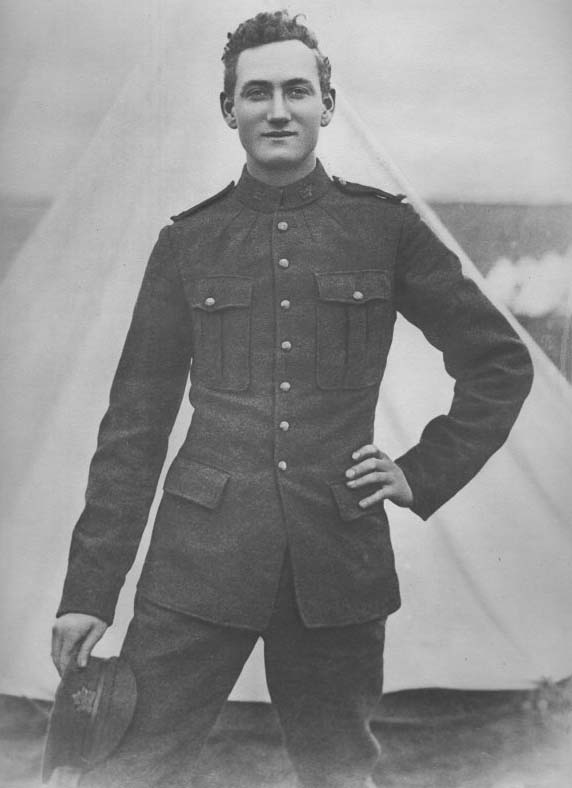 Herbert Edward Shill was born in Melton Hamlet, Ufford on 30th December 1894. He emigrated to Canada in 1908 with the rest of his family following his father and brother Jack who had arrived there in the preceding years. War was declared on 4th August 1914 and a month later on 4th September Herbert enlisted and joined the 1st Canadian Grenadier Guards. On mobilisation to England the regiment became the Royal Montreal Regiment, 14th Battalion, Canadian Expeditionary Force and they boarded the SS Andania bound for England on 4th October 1914. After a period of training at Larkhill in Wiltshire the regiment was sent to France arriving at the end of July 1915. Only a few days later, on the 19th August, Herbert was transferred to the 1st Canadian Divisional Signals Company with whom, shortly before his 22nd birthday in December 1916, he was promoted to the rank of Corporal.
On September 21st 1917 Herbert was on a motorcycle travelling along the Ruitz Road when he was in collision with a lorry. He was taken to the 6th Casualty Clearing Station in Bruay where he died the following day of his injuries. He was buried in the Barlin Communal Cemetery Extension in France.
A court of enquiry was held on 4th October 1917 to enquire "into the circumstances under which No. 25637 Cpl. H.E. Shill 1st Canadian Division Signal Company was fatally injured." The first witnesses, Lieutenant H. G Morrow, described what had happened:
"At. 4.00 pm 21st Sept, I was sitting beside Pte. H.M. Mathews on truck No. 26918 near K19 b 5.1 (sheet 36h). A motor cyclist was coming from the opposite direction in a cloud of dust. The driver of the truck signalled he was going to turn to the left. The cyclist appeared to lose control of his machine as he crossed the road to his left, and then turned back crashing into the side of the truck.

I bandaged up the cyclist and put him in an ambulance going to #6 C.C.S. Barlin."
After the Court had heard all the evidence they concluded that:
"The opinion of the court is that the collision between #25637 Cpl. H.E. Shill and lorry no. 29618 was an accident, due to the dust preventing #25637 Cpl. H.E. Shill from seeing that the lorry was moving across the road. The court is of the opinion that no blame attached to anyone."
Herbert received the 1914-15 Star, the British War and Victory Medals for his service during the war.
Picture with permission form Deborah Waddell-Robertson of british-immigrants-in-montreal.com - further information about Herbert Shill can be found on her website here.