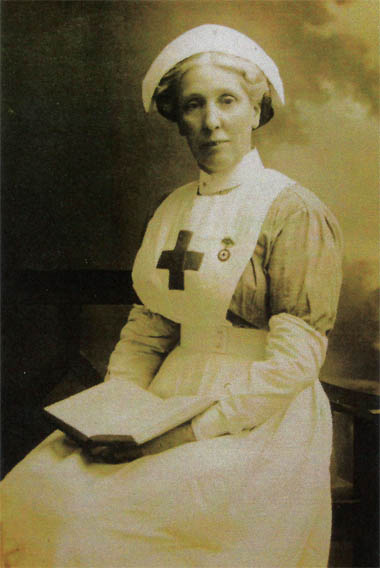 Charlotte was a member of the Red Cross and joined their No.2 Suffolk Volunteer Aid Detachment, or VAD. A VAD group consisted of men and women trained to perform a range of voluntary roles including nursing and managing an auxiliary hospital such as Foxborough Hall.
On 23rd September 1914, she began her war work as part of the Suffolk No.2 VAD at The Gatehouse, a temporary hospital on Church Street in Woodbridge. This was the second location for the hospital, as it had to vacate Woodbridge School due to the start of the new school year. The hospital moved again on 12th November 1914 to Westholme on Cumberland Street in Woodbridge. After this, the members of the Voluntary Aid Detachments were deemed to be "on active service" and expected to wear their uniforms at all times when on duty.
In February 1915, after two further moves, the Red Cross Hospital found its permanent home at Foxborough Hall in Melton. It was not until May 1915 that the hospital started to admit wounded soldiers rather than the sick and injured from the battalions billeted locally. Charlotte remained at Foxborough until August 1916, after which she worked at Broadwater Hospital in Ipswich and for a short period at Northgate Street Red Cross Hospital in Bury St Edmunds.
Charlotte's Red Cross service ended on 10th July 1918. She gave almost four thousand hours of her time to looking after sick and wounded soldiers. For her service, Charlotte received the Red Cross Medal with one War Service Bar indicating that she had worked for at least thirteen consecutive months as a volunteer.