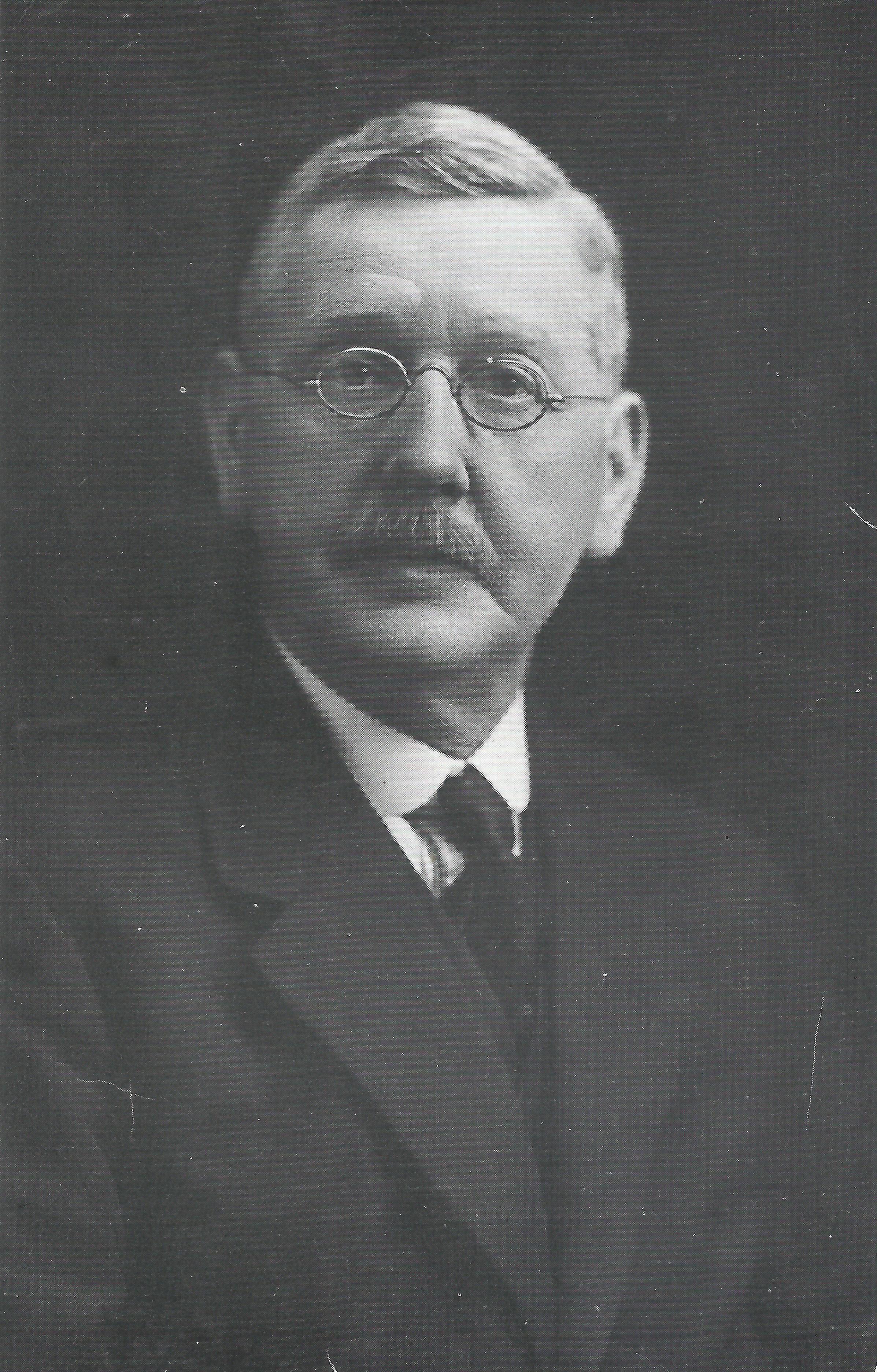 Richard Bentham was born on 1st April 1863 in Wrightington, near Wigan in Lancashire. His parents were John, a coal miner and a lay preacher at the local Primitive Methodist Chapel, and Alice Beesley. Richard's father died when he was nine years old. Soon after, the family moved to Chorley where the 1881 census records that his mother, Alice, was a grocer and eighteen-year old Richard was a pupil-teacher – his first step towards a career in teaching.
On the 31st March 1887, Richard married Hannah Hardy, a wool-weaver, at the Wesleyan Methodist Chapel, Mount Street, Lockwood, Huddersfield, and the couple set up their home in Blackburn and Richard taught at the Furthergate Congregational School in the cotton mills area of the town. Their first child, John, was born towards the end of 1887 and sadly died at the beginning of 1889. Arnold, their second child, was born in November 1889 and their third, Ethel, passed away shortly after her birth in 1891. 1893 was to be a year of change for the Benthams; their son, Harry, was born in the December of the previous year, and, due to his concerns over Hannah's health, Richard applied for the position of headmaster at Melton School. According to his granddaughter, after a successful interview, Richard sat in the waiting room of Melton Station wondering if he had done the right thing. Melton was a long way from their native North of England, but he hoped that the air close to the east coast would be beneficial to his wife's wellbeing. So, in the summer of 1893, Richard, Hannah, Arnold and Harry began their new life in Melton.
The move to Melton was a success and Richard and Hannah went on to have six more children; Margaret Ida, Dorothy Alice, Richard Hardy, Reginald Jack, and twins Arthur Cecil and Maud Muriel. Richard soon became very much part of village life, regularly attending St Andrew's Church and becoming a churchwarden and choirmaster. Richard was also involved in many of the sporting organisations including Melton Bowls Club, Old St Andrew's Football Team and Melton Cricket Club. Richard would often see villagers in his study in Alma House, the family home. Here, he would discuss village issues with them, help with completing official forms or provide references for them. From his study, Richard could see the school that he would lead for a full thirty-one years and, from his garden, a gate led into its grounds. School inspection reports suggest Richard Bentham was a forward-thinking and progressive headmaster who encouraged his pupils to aim high. He embraced the challenges of maintaining regular education despite the disruption of wartime and by all accounts, the school flourished under his tenure.
Richard retired in 1924 and the family remained living at Alma House from where he continued to provide help and guidance to the villagers. On his death in 1943, the Chairman of the School Managers spoke of Richard's effect on the village "which made him in this work, as in so many other offices which he filled in Melton, invaluable". Hannah died a year after her husband and both are buried at Melton Old Church.
The Second World War brought tragedy to the family when Richard and Hannah's son, Reginald Jack (known as Jack), a signalman with the 11th Armoured Division, Royal Corps of Signals, was killed in action on the 2nd May 1945 at Lübeck in Germany. The 11th Armoured Division was known as the Black Bulls due to their insignia. They were involved in the Battle of Normandy in June 1944. By the time of Jack's death, the Division had captured areas of Northern Germany up to the Danish Border and were at the liberation of Bergen-Belsen Concentration Camp. Jack is buried in Hamburg Cemetery.
Their daughter, Dorothy, had married Arnold John Booth in 1920. During the First World War, Arnold was a Second Lieutenant in the Royal Garrison Artillery and was awarded the Military Cross in the King's Birthday Honours in June 1917. He remained in the services after the end of the war and, in 1944, he was a Lieutenant-Colonel in the Royal Artillery. Arnold was in command of the 25th Mountain Regiment, Royal Indian Army, when he was killed in action while fighting in Burma [Myanmar]. He is buried at Taukkyan War Cemetery North of the city of Yangon.