Percy Edmund Tamblin was born in 1894 in Todmorden, Yorkshire. He was the son of John George and Sarah Jane (née Shackleton). Percy had three siblings called William, Nellie and Albert. In 1911, the family was living in Hebden Bridge, Yorkshire, and Percy's occupation was a cotton weaver.
In August 1914, shortly after the outbreak of war, Percy answered an advertisement in a local paper placed by St Audry's Hospital looking for sportsmen or musicians to become attendants. On the 17th, he commenced work. His time at St Audry's was not to last long, whether he did not like the work or the desire to serve his country was too strong is not known, but he handed in his notice and left the hospital on 31st August to enlist in Ipswich the following day.
Percy joined the Suffolk Regiment and was sent for training with the 3rd Battalion at their war station in Felixstowe. After training throughout the autumn, Percy received his mobilisation orders and was posted to France to join the 2nd Battalion Suffolk Regiment as part of a draft of reinforcements, arriving in France on 26th January 1915. Three days later, Percy and eighty other men joined their battalion in trenches at Vierstraat in Belgium. Over the next few months, Percy and the 2nd Suffolks saw action in the Ypres area, during the Second Battle of Ypres, including the First Attack on Bellewaarde, The Actions of Hooge in July and the Battle of Loos in September.
In February 1916, Percy and the 2nd Suffolks were in billets near Poperinghe in Belgium. Over the night of 17th and 18th, Percy was detailed, along with "B" and half of "D" company, for working parties constructing dug outs and repairing roads — it was during this time that Percy was killed.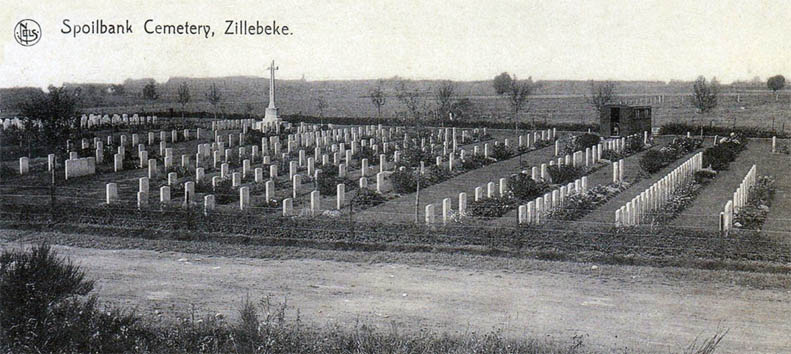 The war diary for the 2nd Suffolk Regiment for the 18th says:
"13113 L/C P Tamblin killed, one man wounded. Working parties"
Percy's body was taken to Spoilbank Cemetery south of Ypres where he was buried. His family had the following inscription added to his headstone: "He saved others, Himself he could not save." Percy is remembered in the Hebden Bridge Combined Methodist's Book of Remembrance. For his war service, Percy's family received his 1914-15 Star and his British War and Victory Medals.