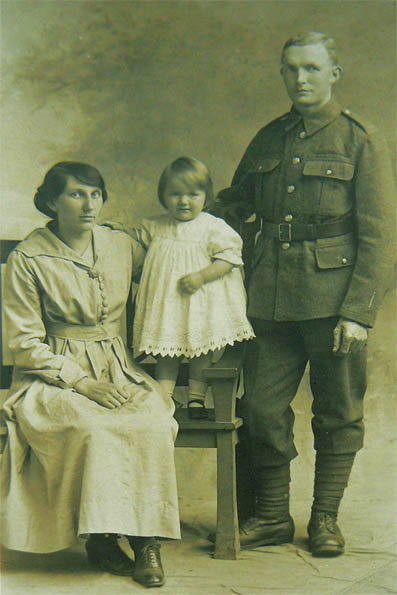 Charles William Deeks married Dora Cale on 6th January 1914 at St Andrew's Church in Melton. They started their married lives at West Lea in Southwold, Suffolk, where Charles was employed as a chauffeur.
He enlisted in the territorial arm of the Army Service Corps (ASC) in Bury St Edmunds on 23rd September 1914 and, on the same day, signed to say that as a territorial, he agreed "in the event of a national emergency" to be posted overseas. Charles was then put into the reserve and mobilised on 17th February 1915. At this point, his wife Dora returned to Melton.
After training, Charles was posted to France on 14th July 1915 with the 257 Company Motor Transport Divisional Supply Column of the ASC. Only four months later, Charles was back in England, where he remained until after his daughter was born in March 1916.
On 12th June 1916, Charles was back in France with the 697 Company ASC, before being transferred to the 852nd Company, with whom he was wounded on 21st April 1917 and returned to England for treatment two days later.
Once sufficiently recovered, Charles was posted to France for the final time on 18th March 1918. He joined 320 Company of the Motor Transport Heavy Repair Shop for the rest of the war. Charles was demobilised on 3rd July 1919 and returned home to his wife at Rectory Lodge, Melton.
For his war service, Charles received the 1914-15 Star and the British War and Victory Medals.
In 1939, Charles and Dora were living in Holland Road in Ipswich where Charles was working as a temporary postman.