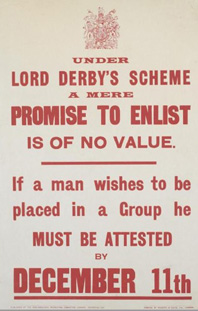 Charles Richard Barlow Stone was born in Great Yarmouth, Norfolk, on 5th April 1877. In 1901, he was living in Ufford and working as a house painter. He married Ellen Maria Knight at St Andrews Church on 10th June 1905 and they had six children, four sons and two daughters, all born in Melton. By 1911, Charles was employed as a house painter at St Audry's Hospital and the family were living at 4 Upper Melton Terrace.
At the outbreak of the war, Charles continued to work at St Audry's but enlisted in the services under the Derby Scheme. This meant he could volunteer to serve but have his mobilisation date deferred. Having enlisted on 12th December 1915, Charles was called up seven months later on 26th July 1916 and joined "B" Company 1st Reserve Battalion Royal Engineers.
On 22nd September 1917, Charles was transferred to the 53rd Company Labour Corps, with whom he remained until the end of the war, when he was demobilised on 9th April 1919. Charles then resumed work at St Audry's for a short period before leaving to move to his wife's home village of Cubbington in Warwickshire. It was here that she had taken the family to live towards the end of the war.
For his war service, Charles received the British War and Victory Medals.
In 1939, Charles and Ellen were living in Cubbington where Charles worked as a decorator. He died in 1961, aged eighty-four