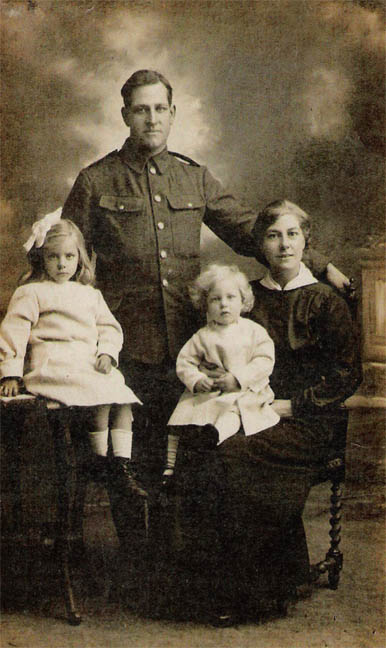 Arthur William Rollinson was born on 10th August 1880 in Pimlico, London. He was the son of William and Sarah (née Battle). William, his father, was working as a police constable at the time. By 1891, the family had returned to Suffolk and were living in Marlesford. Ten years after that and the family was back in their home village of Hacheston where the twentyyear- old Arthur worked as a bricklayer.
On 19th March 1907, Arthur changed career and became an attendant at St Audry's Hospital in Melton, a job he was to continue until his retirement and which was only broken by his war service. On 8th August 1912, Arthur married Margaret Matthews who also worked at St Audry's as a nurse. As a married man with a child, Arthur was not required to join the services until conscription was introduced in 1916 and, on 16th October that year, he was called up.
After training, Arthur was posted to France on 12th July 1917 and assigned to the 2nd Battalion Border Regiment, based in the Arras area. Arthur had only been with the battalion for a short while when orders were received in September 1917 for them to proceed to Belgium as reinforcements at the Third Battle of Ypres or Passchendaele. Arthur and his battalion took part in The Battle of Broodseinde on 4th October 1917, the Battle of Poelcapelle on the 9th October and, finally, the Second Battle of Passchendaele on 26th October. On the 29th, they were relieved from the front line.
Arthur and the 2nd Border Regiment were then ordered to Italy to assist the Italian Army. Between 24th October and 19th November 1917, the Italian Army had been defeated at the Battle of Caporetto, sustaining over three hundred thousand casualties and was almost knocked out of the war entirely. By the time Arthur reached the front line, though their presence was not required as the River Piave had prevented the enemy army from pushing any further into Italy.
They remained on the front line until the end of February 1918 when orders were received to return to France. This decision was reversed at the beginning of March however, and the battalion remained in Italy for the rest of the war. Arthur's time there was to be cut short as, on 14th February 1918, he was treated at the 23rd Field Ambulance for ametropia (an eye problem) before being sent via the 21st Ambulance train to the 39th Casualty Clearing Station and then back to England for further treatment.
When Arthur was discharged from the army on 19th March 1919, he was to work once more at St Audry's Hospital, living at number 6 Upper Melton Terrace, one of the worker's houses. For his war service, Arthur received the British War and Victory Medals.
Arthur's wife Margaret died in 1931 and, in 1936, he married Frances Ellen Mary Boon (1900-1950), who was twenty years his junior. Arthur and Frances continued to live at 6 Upper Melton Terrace. Arthur died in 1972 in Hounslow, Middlesex, but is buried at Melton Old Church, alongside his first wife.