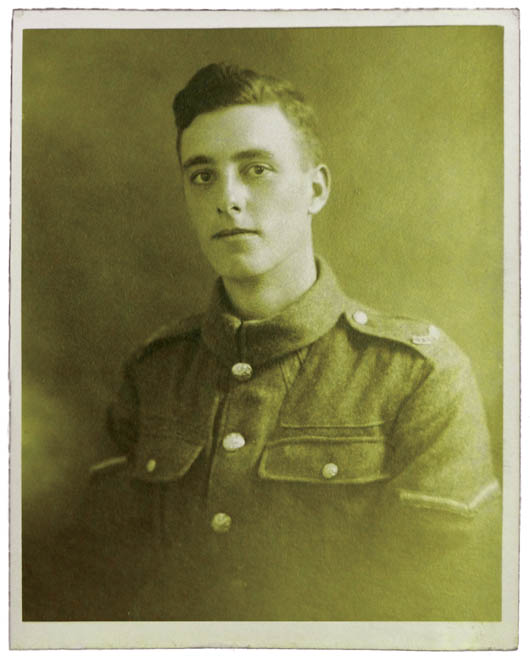 John Edward Newbould Scaife, known as Jack, was born on 6th October 1898 in Bredfield, Suffolk. His parents were Tom and Jessica (née Hancock); Tom worked as an attendant at St Audry's Hospital. By 1911, the family lived in the staff houses of Upper Melton Terrace and Jack had three younger brothers: Maxwell Byford, Tom Eustace and Douglas Bryan. Jack's father, Tom, was a talented musician and played the violin with the "Debenaires".
Jack was only fifteen when war was declared on 4th August 1914 and was too young to enlist. However, he was a big lad and some people, not knowing his age, would challenge him and ask why he wasn't "fighting for King and Country". In November 1915, at just seventeen, Jack enlisted in the army joining the 2nd Battalion, Suffolk Regiment. It is likely that the authorities knew his age as it wasn't until after 1916 that Jack was to be sent abroad to serve with the 2nd Bedfordshire Regiment.
After the war was over, Jack remained in the army with the Bedfordshire Regiment where he attained the rank of Colour Sergeant before retiring and joining the Army Reserve. In 1929, Jack married Eileen Crowhurst in Melton and, ten years later, they were living in Maidstone, Kent, where Jack was working as the Mayor's Marshall and Secretary.
At the start of the Second World War, Jack was called up from the Reserve and promoted to Lieutenant Quarter Master in the Bedfordshire Regiment. In 1947, he had been promoted once more, this time to the rank of Captain in the Army Recruitment Office. Jack ended his army career after forty years in the services and left with the rank of Honorary Major in the Army Pay Corps.
Jack died in 1986 in Ipswich. For his war service, he received the British War and Victory Medals.